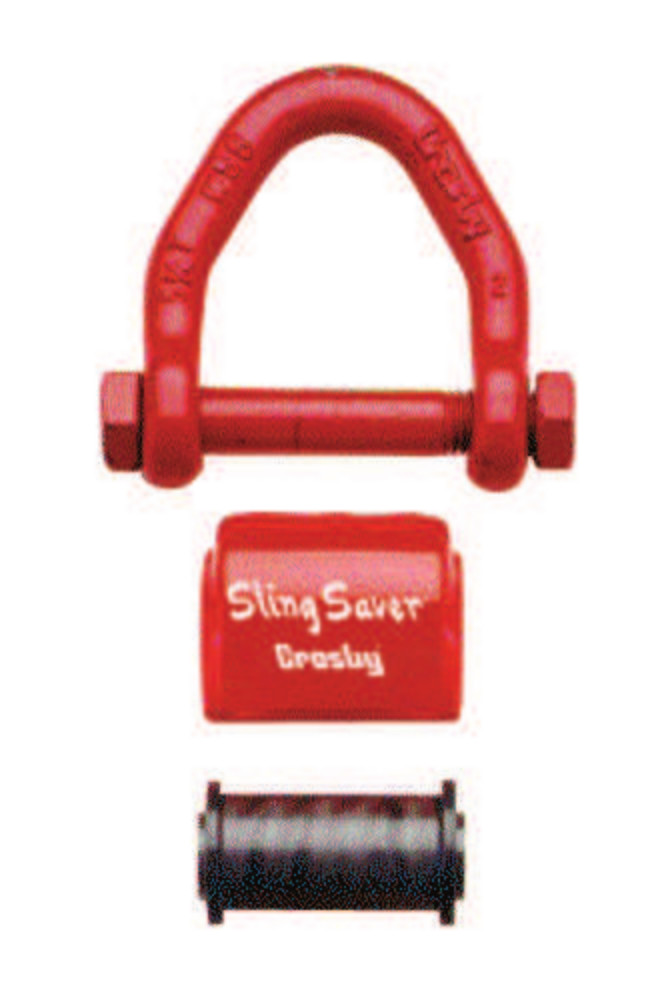 Crosby S-280 Sling Saver Web Connectors
Connects synthetic web and synthetic round slings to conventional Crosby hardware.
All alloy construction.
Durable vinyl cover that:

Protects sling at eye
Keeps sling positioned correctly on spool.

Design Factor of 5:1.
Makes a field assembled bridle quick and easy.
No retaining pin to snag sling material.
Increased radius of spool gives wider sling bearing surface resulting in an increased area for load distribution, allowing better load distribution on internal fibers.
Increases synthetic sling efficiency as compared to standard anchor and chain shackle bows and conventional eye hooks. This allows 100% of the slings rated Working Load Limit to be achieved.
Crosby Sling Saver hardware meets the requirements for minimum stock diameter or thickness, and effective contact width shown in the Recommended Standards Specification for Synthetic Polyester Round Slings by the Web Sling & Tie Down Association. WSTDA-RS1.
Replacement kit for spool and web cover available.
Designed for use with Type III (eye & eye), Class 7, 2-ply webbing and synthetic round slings. Also accommodates single ply and endless slings.
Learn More